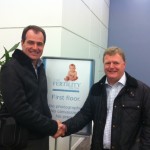 During The Fertility Show held in London (3 – 4 November 2012), Dr Elias Tsakos had the opportunity to meet with Dr Dave Gibbons, a leading Embryologist in the UK and inspector of the Human Fertilisation and Embryo Authority (HFEA).
Dr Tsakos and Dr Gibbons have been collaborating professionally since 1996, where they were colleagues at the Assisted Conception Unit of MiddlesbroughUniversity Hospital.
At the Fertility Show, they discussed the latest quality control protocols applicable to Assisted Reproduction Units and those practiced at the Gynaecology  & Fertility Centre in particular.
Keywords:  Fertility Show,  Elias Tsakos, Dave Gibbons, embryologist, Human Fertilisation and Embryo Authority, HFEA